Our demonstration projects
BalticWaters2030 carries out large-scale, action-oriented environmental projects and conducts applied research to show which measures can contribute to a healthier sea and viable fish stocks. The projects are conducted on land, along the coast and in the sea. BalticWaters2030 also develops and disseminates knowledge about the Baltic Sea environment to the general public, governmental authorities, and decision-makers. The aim is to increase knowledge about the challenges facing the sea and build public opinion so that decisions are taken, and measures implemented.
The Foundations projects will also contribute to the implementation of the UN Sustainable Development Goals, with a particular focus on SDG 12: Responsible consumption and production, SDG 13: Climate action, SDG 14: Life below water and SDG 15: Life on land. Read more about our projects below.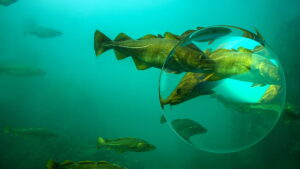 In the sea
The Baltic Sea is a unique but vulnerable environment with a small exchange of water, varying salinity, and large areas with dead zones. Cod is
Our smaller research- and information projects
The foundation carries our smaller research and information projects together with external actors and researchers from various universities. The projects primarily aim to investigate areas where there is currently a lack of knowledge.
The impact of horse husbandry on eutrophication
Project period 2020-2022
Horses produce a large amount of manure that has a negative impact on eutrophication. If collected, handled, and stored safely to be reintroduced into agriculture, it could be a valuable resource. This project aims to develop new knowledge about how horse-dense and trampled horse paddocks affect the aquatic environment, as well as to provide a scientific basis for motivating cost-effective measures. For more information, please contact us.
Analysis of the cod´s feed intake
Project period 2020-2021
This project aims to analyse the causes of the decline in Baltic Cod, its poorer growth and health. The development of the cod's growth conditions will be explored by using new otolithic chemical methods during the period when the stock had a positive stock development (between 1920s-1980s) and compare it with the development of recent decades. For more information, please contact us.
Homing behaviour among herring stocks along the East Coast
Project period 2020-2021
How come some herring individuals form a stock and what are the mechanisms that separate a population from others of the same species? The question is scientifically interesting, but also important for sustainable fisheries management. Hence, the aim with this project is to analyse homing behaviour in herring stocks along the Svealand coast by collecting material for otolithic chemical studies from various spawning collections of herring from four spawning areas along the Svealand coast. For more information, please contact us.
Fine-scale population structure of herring and sprat in the Baltic Sea – implications for sustainable fishery
Project period 2022-2024
Herring and sprat have a central role in the Baltic Sea ecosystem, but there are knowledge gaps on how many stocks there are in the inland sea and how stable they are over time.
Intensive fishing has resulted in a decline of the stocks, which can have consequences for the food chain. Better knowledge of the stocks structure is required, to prevent fishing out local stocks. The aim of this project is to build knowledge for sustainable fisheries management and food security, by describing local population structure for herring and sprat. Genetic markers and whole genome sequencing will be used to explore fine-scale structure and temporal stability of herring and sprat populations. For more information, please contact us.
RoC – Return of the Cod
Project period 2021-2022
The Baltic Sea cod used to be one of the world's largest cod populations and is the most important predatory fish in the Baltic ecosystem. However, today the stocks consist of small and slim individuals in poor conditions and the existing fishing ban on the eastern cod is not enough – an ecosystem-based thinking is needed. The project RoC aims to identify and compile appropriate measures to restore the cod stock and to communicate the results to stakeholders. The goal is to act as a bridge between science and politics when the proposed measures are communicated. The project is carried out by FishSec together with partners. For more information, please contact us.
Book about the Baltic Sea – How did it turn out like this?
Project period 2022-2023
The Baltic Sea is one of the world's most studied seas. The inland sea faces many challenges, but there are clear solutions to several of them. Yet, unsustainable use of the marine resources continues. Why this is, and how it is allowed to proceed, are questions that Henrik Hamrén, science journalist, will go to the bottom with by examining the mechanisms and underlying structures – political, economic, and psychological – that drive the unsustainable use of marine resources. The investigation will result in a book. Support has been provided by BalticWaters2030 in favour for Hamréns work. For more information, please contact us.
With your support, we can work purposefully with a long-term perspective to save the Baltic Sea